The Truyère gorges are traversed by lacs. This wild landscape has been shaped by the creation of numerous dams, creating a industrial heritage which cannot be found anywhere else. In summer, discover with family or friends the history, construction and operation of these dams and more broadly, the history of hydroelectricity in the Lot and Truyère valleys.
hydroelectricity
Although hydroelectricity represents only half of electricity production in France, it is the only energy source capable of being quickly modulated according to demand and thus of compensating for peaks in consumption.
In 2020, hydro represents 49% of the gross production of renewable electricity in France. With more than 2 installations, France is, along with Sweden, one of the main producers of hydraulic energy in the European Union.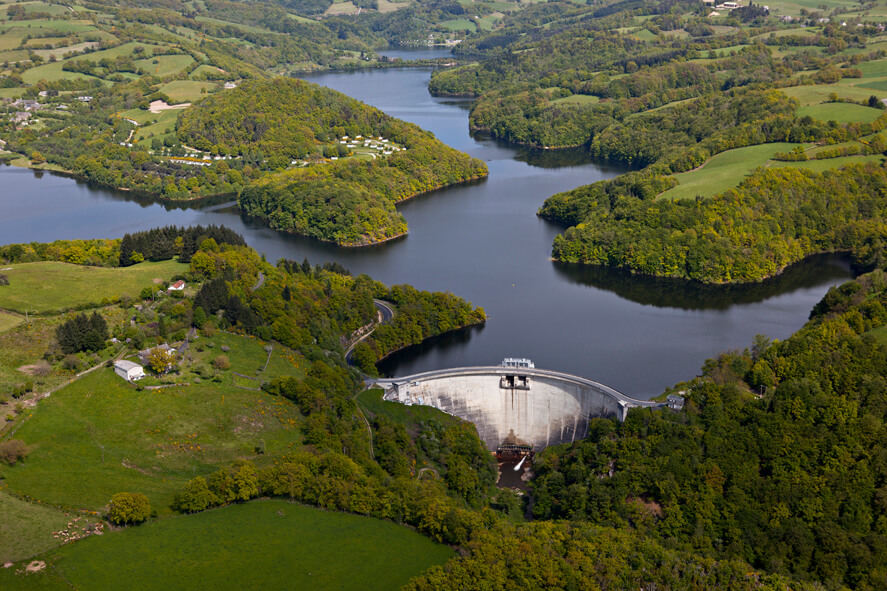 The dams on the Truyère gorges
To the west of Aubrac is a river: the Truyère. South of Aubrac, there is another river: Le Lot. These two valleys, sometimes not too steep, sometimes very steep, are exceptional and unique for their concentration of hydroelectric dams. Twenty gravity, mobile, arch or multiple-arch dams supply fifteen production plants, including the Montézic pumped energy transfer station, the second most powerful hydroelectricity production site in France.
All these hydroelectric developments contribute to the production of the first renewable energy in France. They represent 10% of the power of EDF's hydraulic fleet in France.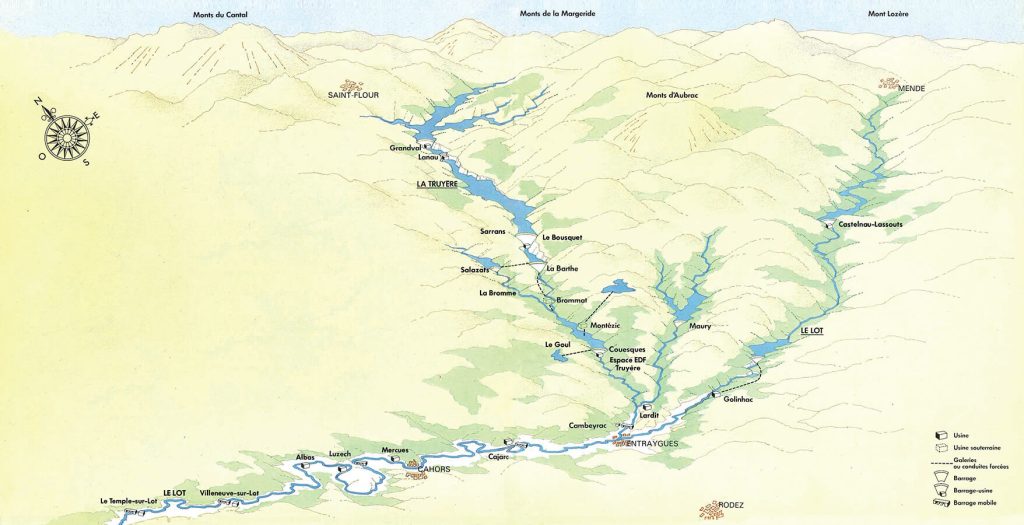 The history of dams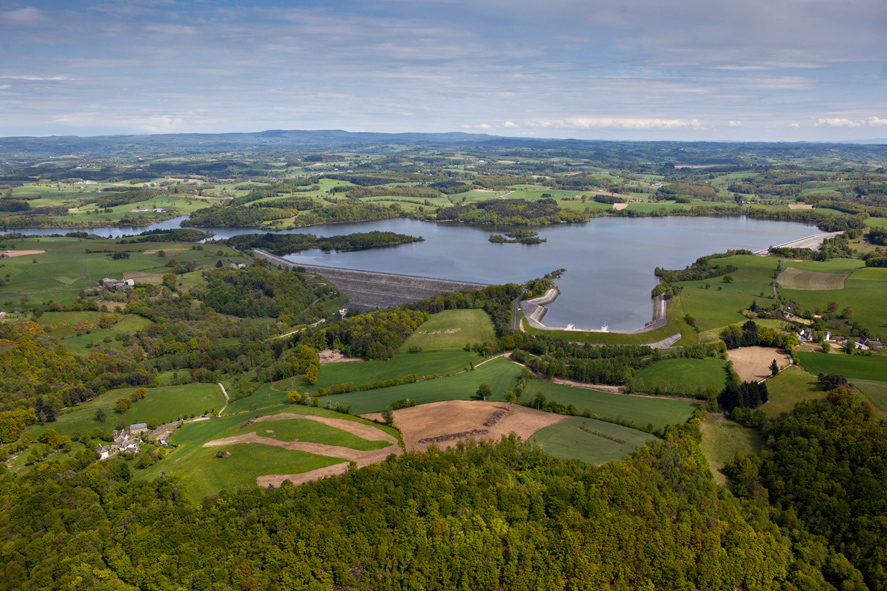 the basin of La Truyère
The steep drop of the Truyère makes it one of the most interesting rivers in the Massif-Central for hydroelectric production.
From 1910 a development project was studied. This will be the beginning of the metamorphosis of these gorges with the construction of several dams and factories.
The first will be the Brommat 1 underground hydroelectric power station, which was inaugurated in 1933 by the then President of the Republic, Albert Lebrun. Then in 1934, the Sarrans dam was filled with water. This dam is still today the largest in the Truyère valley, and one of the largest in France. Then came Lardit-Maury (1947), Couesques (1950), Cambeyrac (1957), Grandval (1959), Lanau (1962), Brommat 2 (1975) and finally the latest and most powerful in the valley: Montézic, commissioned in 1982.
The Lot basin
Before the confluence with the Truyère, the Lot is equipped with two structures: Castelnau Lassouts (between Saint-Geniez-d'Olt and Saint-Côme-d'Olt) commissioned in 1949 and Golinhac (between Estaing and Entraygues-Sur- Truyere) in 1960.
The different dams
Factory name
Year of commissioning
Engime
Type of dam
Area
grandval
1960
74 MW
Grandval (1959): multiple vaults
Ganivet (1954): water intake
Moulinet (1959): water intake
1 ha
14,5 ha
16 ha
Silt
1962
20 MW
Lanau (1962): thin vault
158 ha
Sarrans
1934
183 MW
On the Truyère (1934): weight
On the Cantoinet (1934): weight
1 ha
0,1 ha
Bromat 1
Bromat 2
1933
1975
406 MW
La Barthe (1974): vault
Salazats (1974): weight
La Bromme (1932): vault
La Cadène (1932): weight
40 ha
0,1 ha
Disused
Disused
Montezic
1982
920 MW
Montézic (1982): upper reservoir
233 ha
couesques
1950
120 MW
Couesques (1950): slender vault with overhanging crest
Le Goul (1950): vault
260 ha
18 ha
Bacon
1947
43 MW
Maury (1947): vault
166 ha
Cambeyrac
1957
12 MW
Cambeyrac (1957): weight
23,4 ha
Castelnau-Lassouts
1949
42 MW
On the Lot (1948): weight
Mousseau (1950): weight
218 ha
0,1 ha
Golinhac
1960
45 MW
Golinhac (1960): weight
53 ha
industrial tourism
These structures astonish, impress and many people ask themselves questions about their construction, their history, their operation. Thanks to the energy road, information spaces, tours, viewpoints, will allow you to better understand hydroelectricity in general and more particularly in the Truyère gorges and the Lot valley.
Nautical activities
Hydroelectric production has changed the economic climate by creating dams, bodies of water and lakes important, thus promoting the development of tourism: establishment of campsites or practice of water sports.
Fishing
In a setting of untamed beauty, fisherman will be happy, with many lakes and rivers of second category at their disposal, where you can fish for pike, zander, trout, carp or tench. But also first-class rivers and an important network of streams where wild trout reign supreme.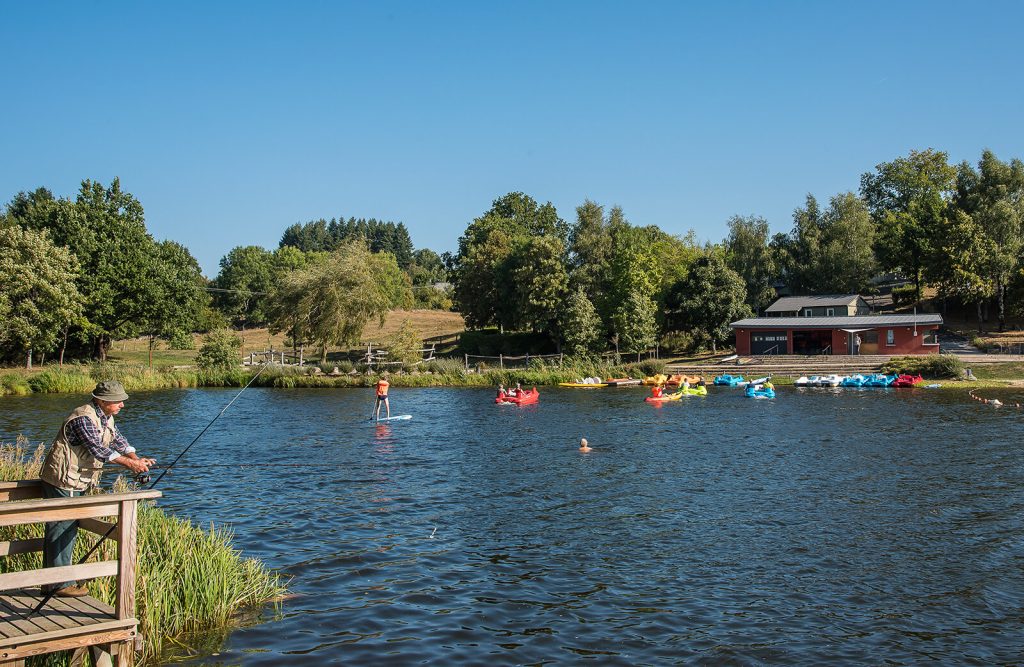 Hiking
Many hikes will allow you to discover magnificent views of these gorges which have remained wild. Hiking sheets are on sale in the various offices of the Tourist Office, come and find us, we will advise you!