The winter meeting place for gourmets on the Aubrac plateau takes place in March. Follow Traces of Laguiole AOP cheese and aligot from Aubrac during a cross-country ski, snowshoe or on foot hike, to the rhythm of conviviality, the discovery of heritage and local gastronomy, all while crossing the magical landscapes of Aubrac in winter.
a gourmet hike
More than 2 participants meet each year in March on the Aubrac plateau, to celebrate Laguiole AOP cheese. As its name suggests, Les Traces du Fromage is an event organized by the Cooperative Jeune Montagne, which offers to discover our territory and its flavors by dedicating a day of walking to it. Laguiole AOP cheese, mulled wine, gentian, fouace, aligot are there to invigorate you.
This day of hiking is placed under the sign of the meeting. Les Traces du Fromage is also the discovery of heritage: you walk from buron to buron, these small shelters where the herds were kept during the summer and where the cheese was made by hand. You are warmly welcomed and you interact with breeders and producers, while enjoying yourself!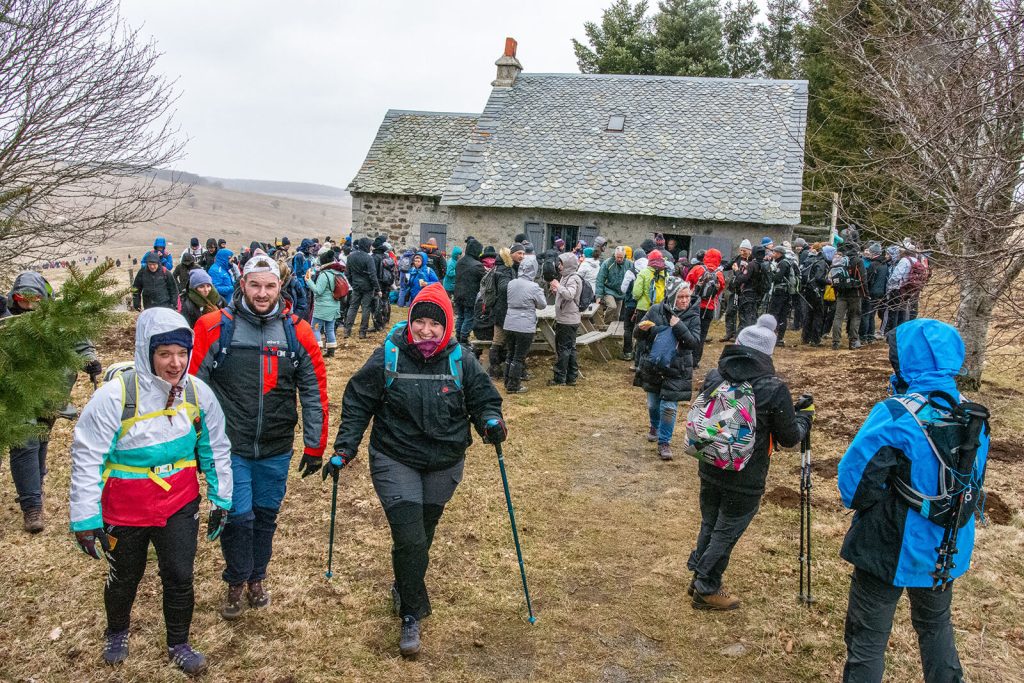 Tours for everyone
Three hiking loops are offered, departing from different ski resorts on the Aubrac plateau:
a departure from the ski resort of Laguiole, for a 21 km loop,
a departure from the ski resort of Brameloup, for a 18 km loop,
a departure from the ski resort of Nasbinals, for a 12 km loop.
At midday you will arrive at the village ofAubrac, the meeting point of the three loops. A meal well deserved, with an aligot accompanied by Aubrac meat, you will be served. A mini-farm, where you can chat with the breeders, is even set up for the occasion.
Registrations are made via a booking platform set up by the Cooperative Jeune Montagne, the organizers. Places being limited and leaving quickly, we invite you to contact us or follow the event on the Social Media to keep you informed of the opening dates for registration.
For any information, do not hesitate to contact the Laguiole Tourist Office