With our many rivers, our water places and our lacs, you are here in an angler's paradise. For all enthusiasts or amateurs, our territory is ideal for having fun in unspoiled nature. The lakes are constantly fed by multiple sources, giving the water a purity and freshness ideal for fish. Trout, But also perch, pikeperch et pike, and even lovers of no-kill in the river, here you will find the spot of your dreams.
trout fishing
Trout fishing is one of the most practiced fishing in the world. The many possible techniques will allow you to find the one that will bring you the most satisfaction. Releases are carried out each summer in the main lakes of the region. Find thecalendar releases.
predator fishing
With their rocky drop-offs, their flooded forests, our lakes are home to many predators: carp, zander, perch, pike, but also roach and bream.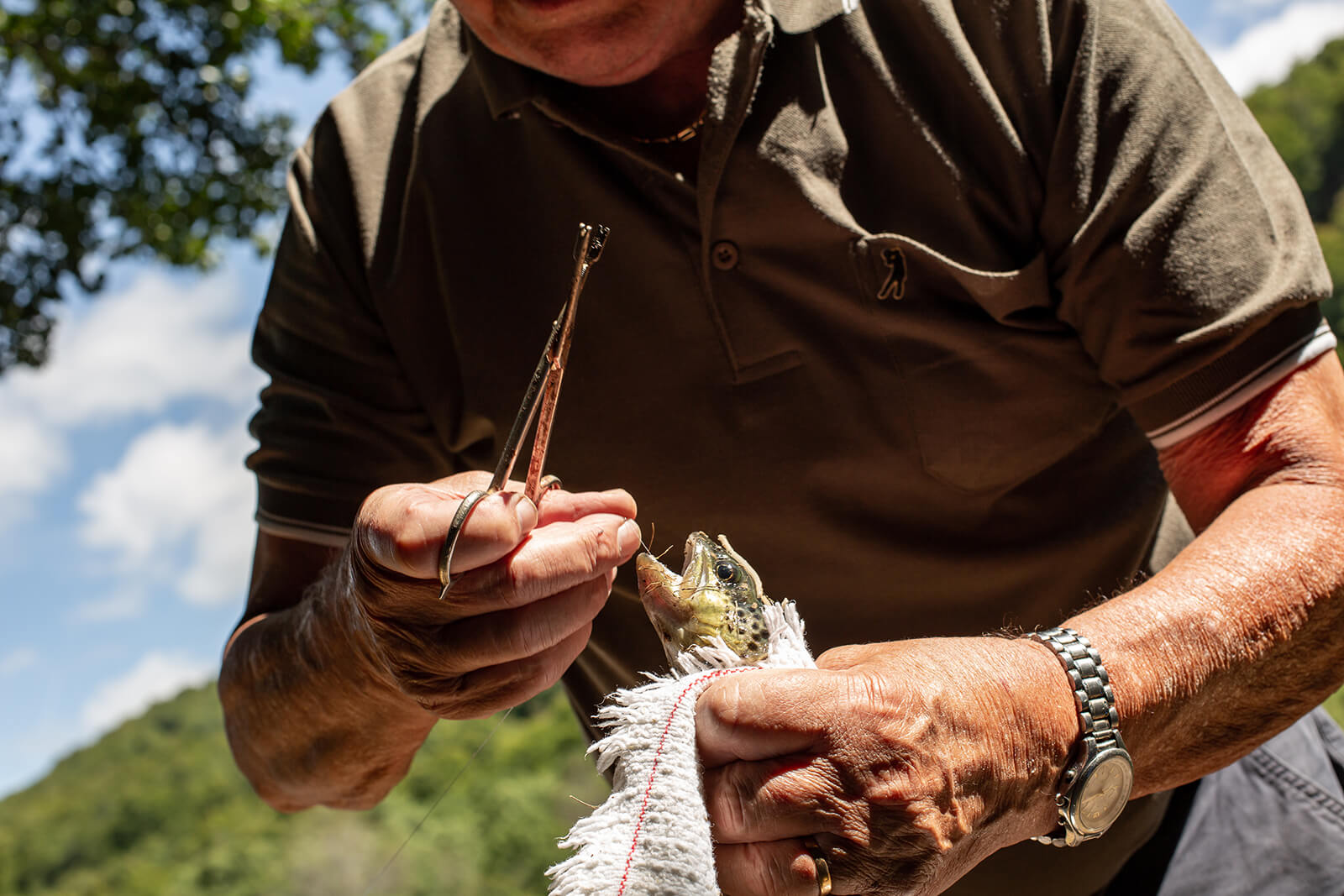 Family fishing at Lac des Picades
Come and practice family fishing in an idyllic setting: a small lake in the middle of the forest. Managed by the Aveyron fishing federation, this lake is stocked regularly. The banks are set up with picnic tables, toilets, benches, etc. Everything to have a great time in the great outdoors.
no kill
For athletes, for those whose pleasure is to walk in magnificent sites and lovers of the simple pleasure of catching.
3 sites offer river courses, in no-kill:
Lebot
The Ruols
Argence Vive
Don't forget the basic rules of this sport fishing: the fish must stay as little as possible out of the water (10 seconds maximum), it must be held by both hands. Favor simple barbless hooks, keep your hands wet when handling the fish, put it back in the water facing a weak current, open your hands and let it go at its own pace.
A relaxing break
The Vignotte lake in Sainte-Geneviève-sur-Argence.
Many equipped and secure fishing courses are available for a family fishing trip in complete safety. These can be decorated with pontoons, picnic tables and toilets like the Vignotte lake in Sainte-Geneviève-sur-Argence or the Saint-Gervais lake in Saint-Symphorien-de-Thenières.
Regulation
Be sure to find out about the classification in 1st or 2nd category of the spot you have chosen from the Aveyron Fishing Federation and Protection of the Aquatic Environment.
purchase of fishing license
Whichever fishing technique you have chosen, a fishing license is required. Good news, the halieutic card is valid throughout our territory. If you don't already have it, you can get it online or at many local retailers:
purchase of material
Other businesses
Over time, Main Street, 12460, Saint-Amans-des-Côts 05.65.44.16.82
local organizations
Approved fishing and local aquatic environment protection associations, or AAPPMA, offer competitions, courses, trout releases, training or half-day fishing, accompanied by a professional guide.